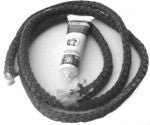 1/2" ROUND DOOR GASKET(6FT)_EF-057
1/2" ROUND BLACK DOOR GASKET (6FT) Gasket cement is included with this door gasket kit.
We have all sizes and lengths of gaskets in stock.
If you don't find what you need listed just send an email for a quote and we can cut to length for you.